VCT
---
Value Creation Technology
At our core, River Point Technology is built to deliver emerging technology solutions to Fortune 1000 organizations and we've been doing so for more than a decade.
We attribute much of our success to a process that we have learned and cultivated over the years. We call it the Value Creation Technology (VCT) process and it has been refined through years of working with enterprise organizations, from early adopters to laggards, covering a diverse offering of industries. We've taken into account both the successes and failures of a wide variety of digital transformation initiatives.
Ultimately, VCT offers a simplistic roadmap for you to work through on your own journey in delivering quantifiable business impact through emerging technology. While simple, each component is a requirement, for as we've learned, if you're too focused on technology your chances for success are minimized.
The VCT process is broken out into three key phases:
1) Choose Phase
2) Incubate Phase
3) Scale Phase
Phase 1:
---
Review whether a solution is a worthwhile investment before getting too far into the weeds and ending up with a science project.
Go/No-Go Check
Enables a foundational change.
Has the potential to deliver measurable business impact.
Is compatible with our people, processes, and culture.
Phase 2:
---
Establishing a proof of value aligned to a quantifiable business case – going for a quick win or failure. The goal is to establish multiple wins to gain cultural awareness and buy in.
Win or Fail Fast:
Prove out a quantifiable business outcome.
Create a momentum to move toward endorsement, budget, and sponsors.
Evaluate how the technology aligns with current processes and technical debt.
Phase 3:
---
Alignment across the four pillars: Technology, Culture, Process and Resources
Know it's a Process Not an Event:
Integrate new solutions with existing technologies.
Upskill and address concerns of the existing team.
Realign processes to enable the solution to improve them.
Although the concepts behind the VCT process aren't difficult nor is it a static solution, it's a path forward that can guide you as you work through the complex and challenging task of evaluating and adopting innovative, emerging technology to your organization.
If you'd like to see how we can apply the VCT lens to your unique situation so you can achieve success with your digital transformation initiatives, please contact an RPT expert today. We look forward to hearing from you.
See you in the trenches,
Jeff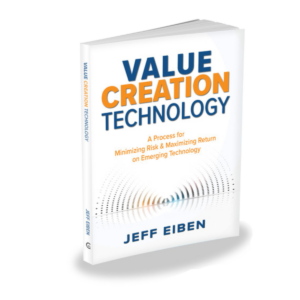 Want to read more about the VCT Process? Check out my new book titled "Value Creation Technology: Minimize Risk & Maximize Return on Emerging Technology", available now on Amazon.com.